With so many different types of boilers available, choosing which boiler to get for your new installation at your home in South Woodford is not an easy task. Combi boilers are quickly becoming the most common boilers out there, but is a combi boiler the best option for your home? In this blog post, our heating specialists at Beales Services will delve deep into combi boilers to see if these boilers are a good fit for your home.

How do combi boilers work?
A combi boiler provides hot water instantaneously rather than holding it in a cylinder. Fresh water is on one side of the heat exchanger, while 'system-stored' water is on the other. The boiler's purpose is to heat the system water, and the heat exchanger uses metal plates to transfer the heat to fresh water. The advantages and disadvantages of a combi boiler will differ based on your home and existing heating system. A combi boiler, for example, may not be practical if your home has many bathrooms.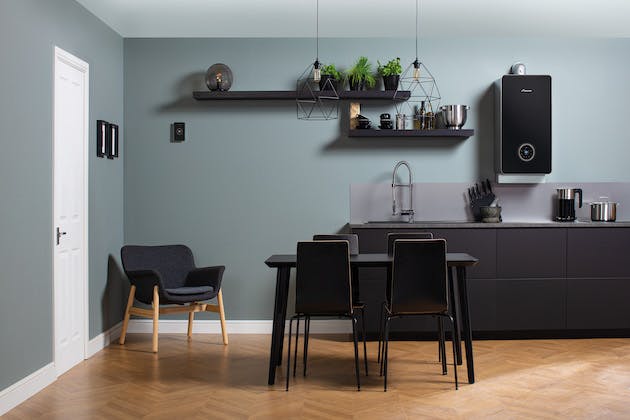 Is a combi boiler the best option for my home?
A combi boiler would be perfect for your home if you live in an apartment or small house with two or fewer bathrooms. Combi boilers are unsuccessful in homes with an excessive number of bathrooms, poor flow rates, or low incoming water pressure. Large hot water capacity combi boilers may also be inefficient for heating systems. Many factors determine whether you should keep your present boiler or switch to a combi boiler. It all comes down to the age of the system, water pressure/internal flow rates, and hot water needs.

Combi boiler flow rates range from 10 to 25 litres per minute, making them acceptable for the great majority of residences with one or two bathrooms. Even the largest household combi boiler may be insufficient if you have a large home with several bathrooms, are extending bathrooms, or take multiple showers at the same time.
When several hot water outlets, such as two showers, are used at the same time, even the largest combi boilers' hot water flow rate is decreased in half. It could be worth investigating a system boiler with an unvented hot water cylinder (if the water pressure is good). Even the most powerful combi boilers have limitations. If your home has more than three bathrooms, a system boiler and high-performance hot water cylinder may be a better option.

If not a combi boiler, which boiler should I get installed?
If your home is too large for a combi boiler, a conventional (regular) boiler may be a better solution. Regular boilers are best suited to households that consume a lot of hot water and have the capacity to heat big homes, whilst combi boilers are better suited to smaller homes. These boilers operate in conjunction with a cold water tank and a hot water storage cylinder. The tank is normally in your attic, and the cylinder is in an airing cupboard or something similar.

System boilers, which have some similarities to ordinary boilers, are also suitable for bigger homes with many bathrooms. They can hold a big amount of water that may be distributed to many sources at the same time, making them ideal for houses with an ensuite or an extra bathroom.

System boilers differ in that they do not require a separate cold water tank, saving you room in your loft and making them easier to install in new construction houses. They have built-in circulating pumps, but they still function with a hot water storage cylinder, which is normally situated in an airing closet.

Regular and system boilers are both excellent options for larger or busier houses with a high demand for hot water and heat. If you already have a normal boiler, installing it again may be more convenient, however, this is only one point to consider when assessing your options. Many people choose system boilers to eliminate the need for a separate cold water tank when starting from scratch, however, this may be less of an issue if you have enough storage space in your house.

Contact us for more information on boiler installations
At Beales Services, we offer a free, no-obligation site survey and written quote. However, we realise that sometimes it can be more convenient to get an idea of pricing without having an engineer attend your property. For an online estimate, please use our boiler estimate form by clicking the button below.