While you probably reorganise and redecorate your living room and bedrooms often enough, when was the last time you thought about changing up your bathroom? Bathrooms are a very important part of our day to day lives, and they should be treated as such.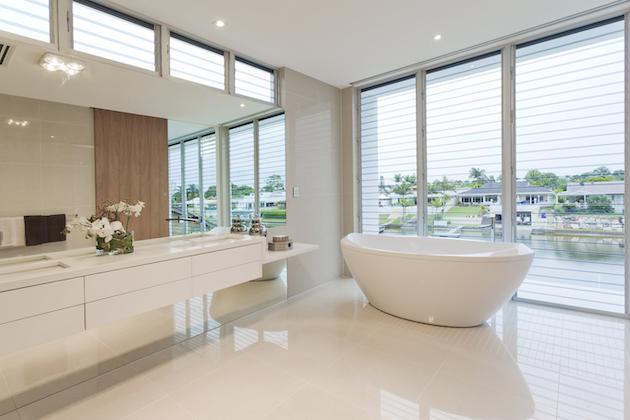 Where your day begins and ends
The bathroom is one of the most used rooms in the house. It is likely to be the first room you enter when you wake up, and the last one you visit before bed. Entering a warm and welcoming bathroom first thing in the morning can set the tone for your day, helping you to wake up the right way! Similarly, ending the day in a spa-like space can prepare you for a great nights sleep. This is a space that can be a sanctuary - calm and relaxing, to make sure you are getting the most out of your day, every day.
A chance to unwind
Light a candle, close the door and create the perfect atmosphere for you to unwind. Give yourself some well needed peace and a chance to relax, which is especially useful after a busy day or if you have a large family. Your bathroom can become the space you enter when you need to escape for a little while, when it comes to relaxation; simplicity and minimalism are key. Enjoy a soak in a deep bath, but if you don't have the room for a bath it doesn't mean you need to miss out on the spa experience. If your bathroom is slightly smaller and you only have a shower there are still things you can do to ensure self-care and relaxation remain top of your list. Investing in a massaging shower head won't take up too much space and is guaranteed to help you relax. These are all important aspects of a new bathroom. And don't forget the feature radiator to warm your fluffy towels and really elevate your daily routine.
Need to upgrade your bathroom in Woodford?
We install new bathrooms across Walthamstow, Wanstead, South Woodford, Woodford, Leytonstone, Leyton, Buckhurst Hill, Loughton, Chigwell and East London. Has your bathroom been ignored or forgotten about? We are more than happy to give it the attention it deserves! Why not arrange a free quote today for your bathroom. To get in touch, give us a call on 07921705246 / 0203 488 0883 or email us at hello@bealesservices.co.uk. You can also fill out the contact page on our website. While you're there, why not check out our gallery of past work?